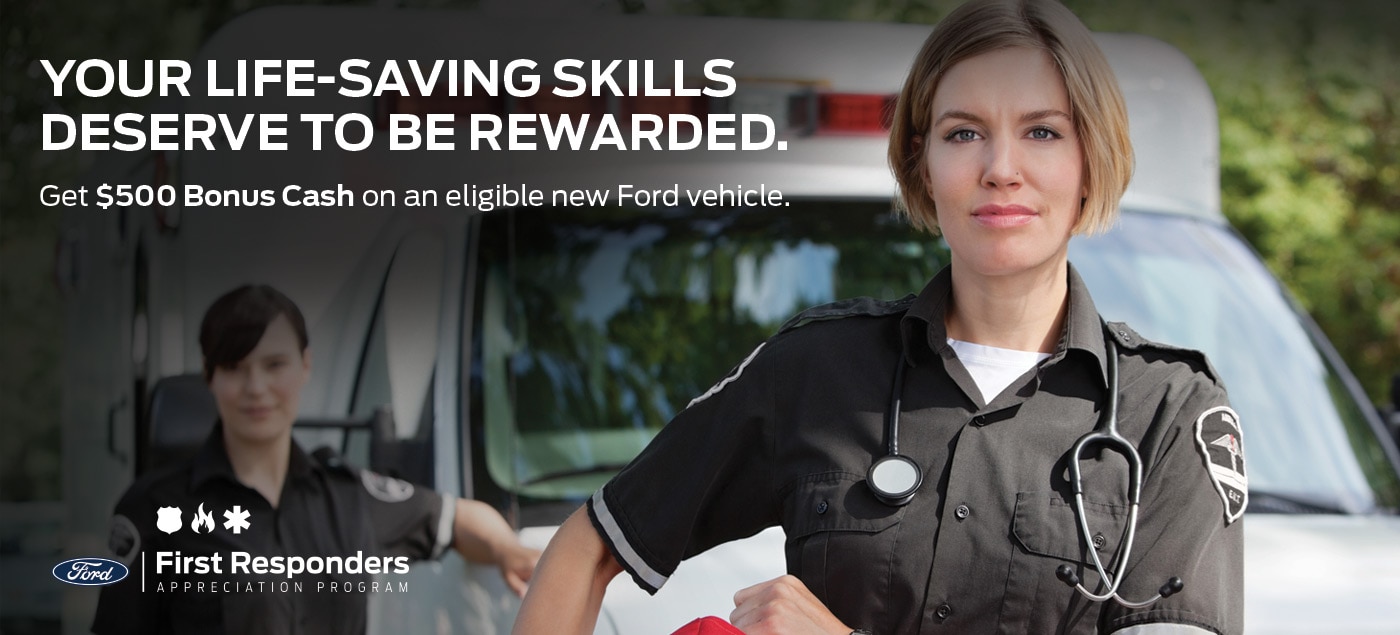 First Responder and Medical Professional Appreciation
Special Discount for First Responders and Medical Professionals in Sullivan
For those serving our country on the frontlines, we want to show our appreciation here at Laura Ford. Through partnering with Ford Motor Company, we're releasing a special incentive for all first responders, medical professionals, and their families. 
Those who qualify and their families may receive $500 Bonus Cash to use on new Ford vehicles. The $500 Bonus Cash can be added on top of other Ford dealership specials.
We're giving our nation's heroes the opportunity to save big at Laura Ford, serving St. Charles. If you work at Mercy Hospital or Missouri Baptist Sullivan Hospital, you may qualify for these exciting savings.
Who Is Eligible for the First Responder Bonus Cash Offer?
All medical professionals and first responders qualify for this exclusive incentive. If you're uncertain if your position qualifies you for the $500 Bonus Cash, you can check your eligibility status by contacting the staff at Laura Ford near Rolla. Our First Responder and Medical Professional Appreciation initiative covers a wide variety of individuals who strive to keep others safe and healthy.
Check out the below workers who can redeem the First Responder Bonus Cash Offer at Laura Ford near Washington, MO:

First Responder Eligible Occupations that qualify for incentive:

911 Dispatchers

Police

    Police Officer
    Sheriff/Sheriff's Deputy
    Correctional Officer
    State Trooper
    Federal Law Enforcement Officer
    (Example: Department of Public Safety, Central Intelligence Agency; please note that not all Federal Law Enforcement Officers qualify for the program.)

Fire Department

    Career Firefighter
    Volunteer Firefighter

EMT

    EMT
    Paramedic


Medical Professionals that qualify for incentive:
Advanced Practice Registered Nurses (APRN and ARNP)
Anesthesiologist
Athletic Trainers
Audiologists
Cardiologist
Cardiovascular Technologist
Chiropractors
Clinical Laboratory Technician & Technologists
Dental assistants, Dental hygienists & Dentists
Diagnostic medical sonographers and cardiovascular technologists and technicians
Dietitians and nutritionists
Doctors
Emergency medical technicians (EMTs) and paramedics
ER Nurse
Exercise physiologists
Family Practitioner
Genetic counselors
Health Information Technician
Healthcare Administrators, Administrative & Clerical Positions
Home health aides and personal care aides
Home Health Nurse
Hospital General Staff & Receptionist
Licensed Practical Nurses (PN/LPN/LVN)
Massage therapists
Medical Assistant
Medical Equipment Preparer
Medical records and health information technicians
Medical transcriptionists
MRI technologists
Neurologist
Nuclear medicine technologists
Nurse anesthetists, nurse midwives, and nurse practitioners
Nurse Practitioner
Nursing Assistant & Orderlies
Occupational health and safety specialists and technicians
Occupational Therapist
Oncologist
Opticians
Optometrists
Orthotists and prosthetists
Pediatrician
Pharmacists & Pharmacy technicians
Phlebotomists
Physical therapists, assistants and aides
Physician & Surgeons
Physician Assistant
Podiatrists
Psychiatric technicians and aides
Radiation therapists
Radiologist & Radiologic Technologist
Recreational therapists
Registered Nurses
Respiratory Therapist
Speech-language pathologists
Surgeon
Surgical technologists
Therapist
Veterinarians
Veterinary assistants and laboratory animal caretakers
Veterinary technologists and technicians



Redeem the First Responder Bonus Cash Offer Today
Are you a police officer who could use a new SUV? What about a doctor or nurse at St. Luke's Hospital who wants a new car, truck or lifted trucks? With the $500 Bonus Cash, along with other Ford specials, you can save more on the next vehicle that you finance or lease from the new Ford inventory. If you have any questions about the First Responder Bonus Cash Offer, don't hesitate to reach out to a Laura Ford staff member. We're here to show our gratitude for your honorable service.
Contact our St. Louis area dealer today about redeeming your bonus cash on a Ford Explorer, Ford F-150, or any other Ford model.
First Responder and Medical Professional Appreciation Cash exclusively for active members of an eligible First Responder Association or Medical profession. Available toward the purchase or lease of an eligible new 2019/2020/2021 Ford or Lincoln vehicle. Not available on Mustang Shelby GT350®, Mustang Shelby® GT350R, Mustang Shelby® GT500®, F-150 Raptor, Bronco and Mustang Mach-E. Must take new retail delivery from an authorized Ford or Lincoln Dealer's stock. Limit of 5, for U.S. residents only.