Mustang Mach-E: It Does Live up to the Hype
Ford has impressively created an all-new electric SUV in a short amount of time that could rival the top EV brands available today, including Tesla and Porsche.
Real Life, Practical Review of the 2021 Mustang Mach-E
Reviewing the new Ford Mustang Mach-E after driving it for a week.
Did Ford make a better EV than Tesla?
Tesla has dominated the EV market in recent years but can Ford carve out a piece of the market with its new Mustang Mach-E?
Side-by-Side Comparison: Ford Mustang Mach-E and Tesla Model 3
In-depth comparison of two American-made EVs.
ZIP CODES - near 
63005

63080

65584

65401

63021

65619

63301

65559

63640
CITIES near 
Chesterfield
Sullivan
St. Robert
Rolla
Ballwin
Springfield
St. Charles
St. James
Farmington
Ford sought out to build a car that reflects the brand's iconic heritage and also meets the needs and desires of today's drivers. With the Mustang Mach-E, drivers get the iconic muscle car style and commanding performance in an electric SUV. Capable of going from zero to sixty in under four seconds, drivers won't have to worry about missing the sportiness and dynamics of a muscle car, nor the trips to the gas station.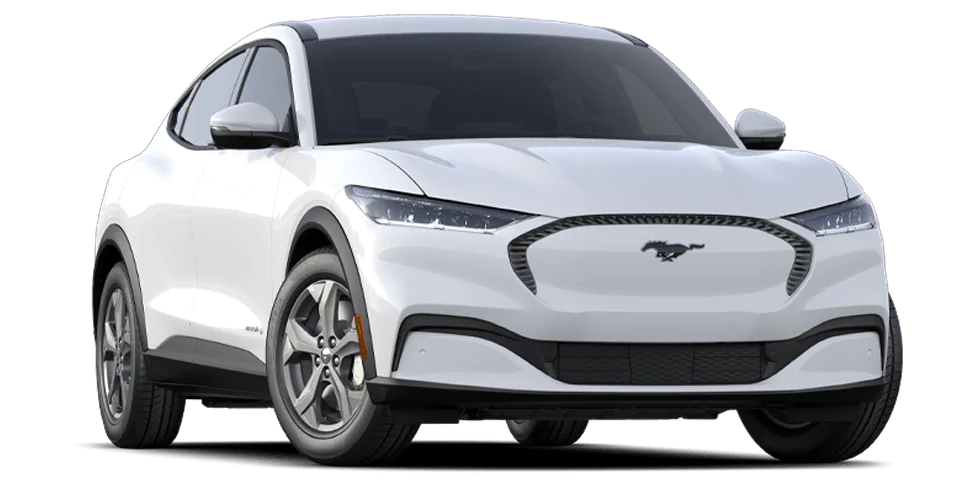 PREMIUM
MSRP Starting At $ 47,000
Range, Extended-Range Battery, RWD
4.8 seconds
eAWD or RWD
19" Wheels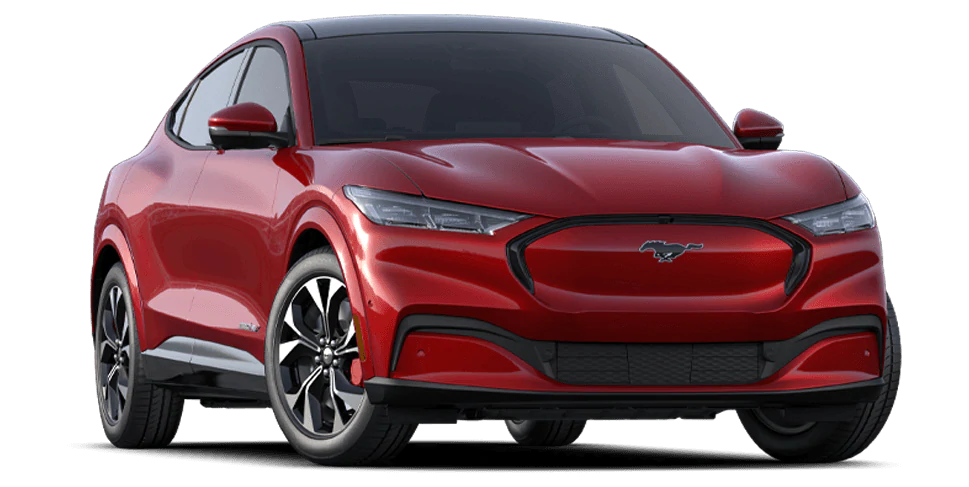 FIRST EDITION
MSRP Starting At $ 58,300
Mustang lovers, here's another one for the collection. This limited-edition all-electric SUV has all the power, performance and adrenaline you could ask for. Then, there's that something extra that only the best of Mustang Mach-E can bring. The unique styling is complemented by specially appointed details, including First Edition scuff plates, brushed-aluminum pedals and red brake calipers. But feel free to leave your showroom because this one-of-a-kind vehicle also comes with sweeping range courtesy of eAWD and an Extended-Range Battery.
EPA est.
Range, Extended-Range Battery, eAWD
4.8 seconds
0-60, eAWD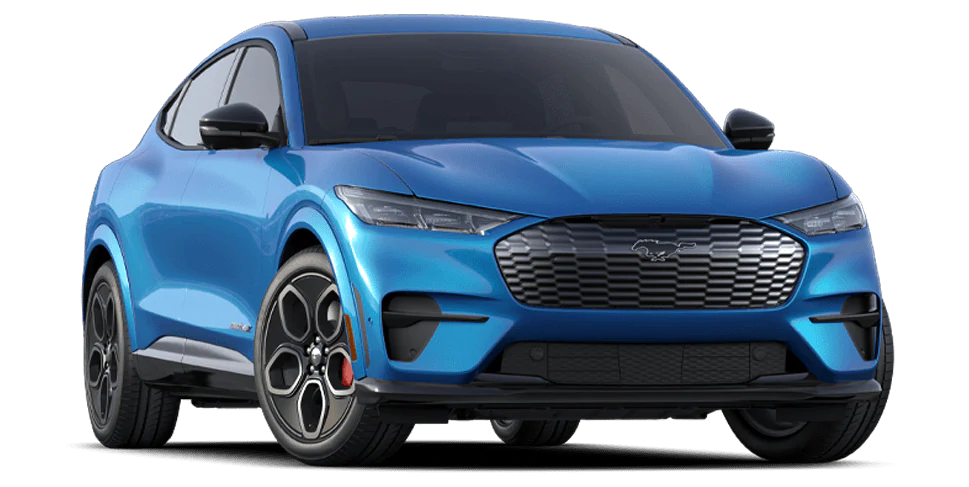 GT
MSRP Starting At $ 60,500
Taking reservations for Mustang Mach-E GT models, which offer pure torque-drenched exhilaration with performance-inspired design. This Pony earns every inch of its GT badge.*
Targeted Range, eAWD
3.8 seconds
eAWD
20" Wheels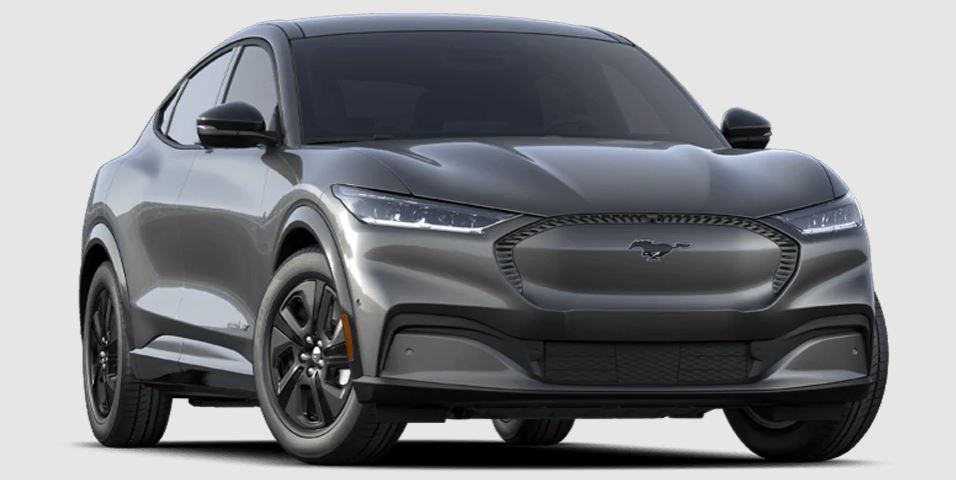 CALIFORNIA ROUTE 1
MSRP Starting At $ 49,800
Like a greatest hits album, the California Route 1 has unbelievable range and just as much star power. Named for its cruise-worthy engineering, this rear-wheel-drive model with Extended-Range Battery helps open up your world with an EPA-estimated range of 305 miles.
EPA-est.
Extended-Range Battery, RWD
6.1 seconds
0-60, Extended-Range Battery, RWD
Frequently Asked Questions
What is the MSRP for the Mustang Mach-E?
The Mach-E is available in three trims; Select, starting at $42,895, Premium starting at $47,000 and the California Route 1 model starting at $49,800.
Should I buy the Mach-E?
The Mustang Mach-E is a good choice for those who are not intrigued by the offerings of the current obvious competitors in the EV segment. The Mach-E has powerful performance as well as a stylish interior.
Where does the Mach-E name come from?
The first generation Mustangs were referred to Mach 1 to reflect the car's speed and performance. The Mustang Mach-E name is inspired by this part of Ford's history.
How do I test drive a Mach-E?
Starting in late 2020, customers can contact their local Ford EV certified dealerships to test drive the Mustang Mach-E.
About 
Laura Ford of Sullivan

 Sales Department

Outside of our stellar craftsmanship when it comes to maintaining Ford vehicles, our dealership offers multiple qualities that elevate us past our competition. Our team is made up of Ford factory-trained technicians who are ready to provide the ultimate service you require. With such an outstanding make like Ford, you can be sure those we train have similar high-levels of qualifications.
REVIEWS
from our 
 Customers
Laura Ford of Sullivan

 Sales Hours

Monday08:00 - 20:00

Tuesday08:00 - 18:00

Wednesday08:00 - 20:00

Thursday08:00 - 18:00

Friday08:00 - 20:00

Saturday08:00 - 17:00

Sunday00:00 - 19:00